How to Prep Cabinets Like a Pro without Sanding!
How to Prep Your Cabinets without Sanding! It's as easy and Just Clean & Paint. This is the "Clean" portion"

1. Protect your surroundings. Protect your skin and eyes if needed.
2. Apply a liberal coat of surface prep deglosser to one cabinet door at a time using our deglosser brush.
3. Using a green scouring pad to scrub the surface to break up any surface oils.
4. Wipe with a clean dry cloth.
5. Feel the surface. If it feels clean, you're good to go. You should feel resistance on your hand and even better if you can get a squeaky clean sound. If you still feel oil, clean them again.
6. Work one door, one drawer, one section of the base cabinet at a time.
7. Make sure to thoroughly clean all areas that you will be painting or staining.

Note: If your cabinets have been previously painted, this prep is still appropriate. However, if any of your original finish is peeling, chipping or loose, you'll need to sand the loose away and get a good, smooth surface to start with. If you have any damage to repair with paintable wood filler, do that first. Then clean & paint (or clean & stain) using ALL-IN-ONE Paint products.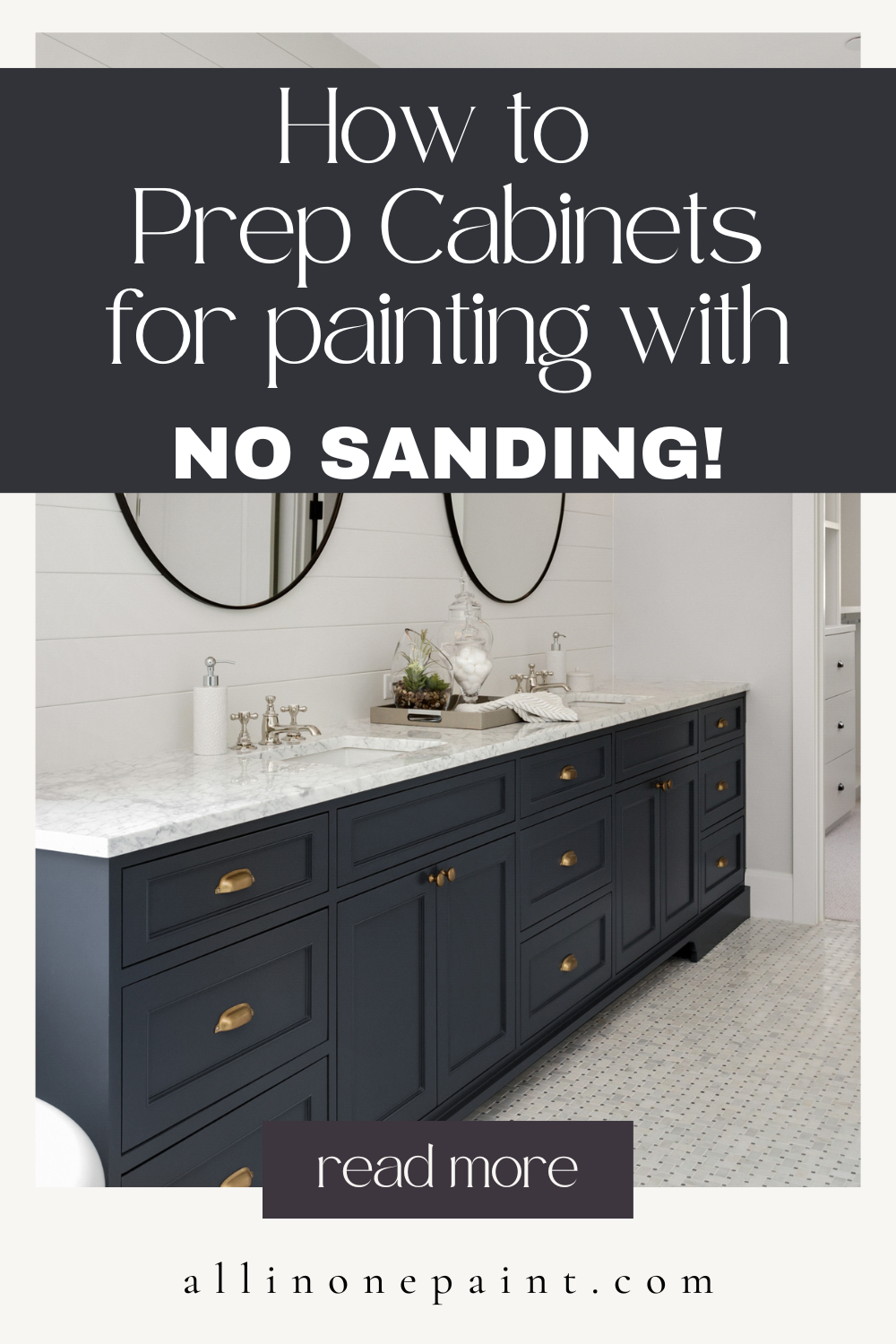 Best Tips:
1. Feel your cabinets before you start so that you can feel the difference. You may or may not see a visual difference and either is okay as long as you can feel the difference.
2. If you've cleaned your cabinets twice and "dirt" is still coming off on the rag then it is likely the original finish that is coming off not grease and grime. So as long as it feels clean, your'e good to start painting.
3. Pay extra attention to the cabinets above and directly beside your stove. Those are typically the ones that have the most buildup of grease & oils. Those will likely need to be cleaned twice.
4. Pay extra attention to areas where peoples hands are often touching on the cabinet door...near the knob area and corners where they may grab to open.
5. Do not use as a general cleaner. This is a prep for surfaces that you will be painting or staining. It may discolor your original finish if used as a cleaner.
Materials Used
Deglosser / Degreaser ( Surface Prep ), Heirloom Traditions All-In-One Paint
1
Deglosser Scrubby || Scouring Pad
1
Deglosser / Stain Syntec Brush, 2"
1